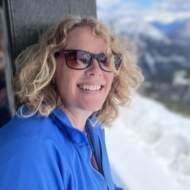 My husband and I moved to Chatham in the early 90's and since then, our family has been fortunate to grow and work and learn and play in Chatham-Kent. I have been a pharmacist for over 30 years, and have spent the last decade+ of my career in healthcare leadership. As rewarding as working in healthcare can be, it can be very demanding and most days, it is all-consuming. I have always enjoyed a rewarding worklife balanced with a wonderful homelife, yet some time ago, I set out in the pursuit of more joy, and my officiant journey began! Because what is more joyful than a wedding? It was non-negotiable for me that I align myself with an organization who shared my core values of inclusivity, respect for all, fairness and integrity. As such, I am very pleased to be a Humanist Officiant. I believe that as you start your life together as a married couple, your wedding ceremony should be a reflection of your values, of who you are. It is my job as an officiant to facilitate a ceremony that is truly your own, representative of who you are as individuals and as a couple. I would be honoured to be your officiant, I consider it a privilege to do this work, to be present at some of the most important moments in peoples' lives. To your ceremony, I will bring my creativity and enthusiasm, my respect and my sense of humour.
This user account status is Approved
This user has not added any information to their profile yet.
Kitchener / London / Hamilton / Niagara