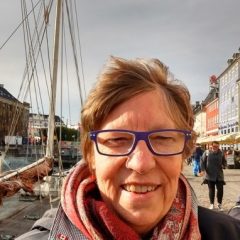 Mary Beaty
Chaplain
Toronto, ON
View Profile
Mary Beaty is a former teacher and public librarian, and has been serving as the Humanist Chaplain at the University of Toronto for over a decade.  Along with Dr. Gail McCabe, the initial Humanist Chaplain at UofT, she helped found the Ontario Humanist Society, and serves as OHS Governing Official and former chair of the Ceremonies Committee.  She is a member of OHS, AHA, HAC, HAT and a supporter of IHEU. Mary represented the American Humanist Association at the United Nations (NY), working with both secular and faith-based groups on human rights and social justice issues. As a humanist officiant, she has conducted over 1500 secular ceremonies, in New York and Ontario, within a great variety of cultural traditions. Mary wishes to encourage new generations of students and the wider public to express humanist concerns (especially environmental, scientific, human rights and social justice issues) through activism and service.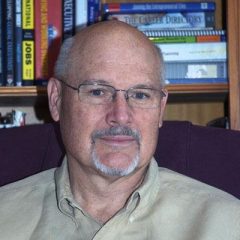 Marty Shoemaker
Chaplain
Vancouver, BC
View Profile
Dr. Marty Shoemaker (known informally as Dr. Shoe by his students) is a semi-retired psychologist of 45 years, now committed and fully enjoying his encore career of engaging students and audiences in finding an ethical worldview which makes sense to them as a Humanist Chaplain at Kwantlen Polytechnic University, Richmond, B.C. Campus, Multifaith Center. He is also a Volunteer Community Spiritual Care Practitioner at Vancouver General Hospital. He is a long-time member of the BC Humanist Association, Humanist Canada, American Humanist Association and a retired member of the Social Science faculty of Douglas College. An avid reader, Marty is currently working on a book on Inclusive Humanism for university audiences and is a proud father, grandfather, fly fisherman, football spectator and golfer. He is most pleased to be a part of the growing interest and career development of Humanist Chaplains and secular leaders in Canada and world-wide.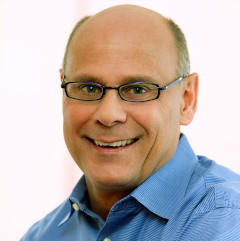 Martin Frith
Chaplain
Toronto, ON
View Profile
Martin Frith has a rich and diverse background providing meaningful relational services to people from all walks of life. Having worked in acute, long term, and rehabilitation settings as well as over 25 years of experience in psychotherapy with individuals, couples and groups, Martin is thrilled to be able to provide Chaplaincy services to the Humanist community. Martin also has a particular interest in end-of-life issues having worked for 15 years as bereavement coordinator for a funeral company and 10 years as the Client Support Coordinator at Dying With Dignity Canada. Passionate about serving his community, Martin is also the current President of Humanist Canada and a licensed Humanist Officiant providing a range of secular services. Martin holds a Master's of Divinity (St. Michael's College, U of T) and is a Clinical Fellow with the American Association of Marriage and Family Therapy.
Need to set up a time to speak, click here.
Website: http://www.ceremonieswithchoice.ca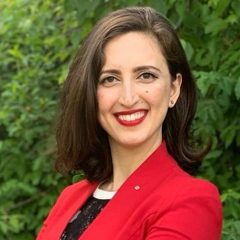 Srishti Hukku
Chaplain
Ottawa, ON
View Profile
Srishti is a Kashmiri-Canadian who loves exploring ethical, existential, emotional, and equity issues. As a founding chaplain, Srishti is the youngest and first racialized accredited humanist chaplain in Canada, and was part of the leadership team that professionalized humanist chaplaincy across the country.
As a humanist chaplain, Srishti currently serves the community at the University of Ottawa. Srishti is a lifetime member of Humanist Canada, a Humanist officiant and a supporter of the AHA, Humanists UK, Humanists Australia and Humanists International. Srishti is passionate about creating spaces that maximize human potential by leveraging a trauma-informed and anti-oppressive lens. Srishti is especially moved by sound public policy, 2SLGBTQ+ issues including sexual, romantic and reproductive rights and health issues including social determinants and neurodiversity. Srishti holds a Master's in Public Administration and is completing a cotutelle PhD in Population Health and Medical Anthropology.
Website: https://www2.uottawa.ca/campus-life/health-wellness/meet-chaplains
LinkedIn: https://www.linkedin.com/in/srishti-hukku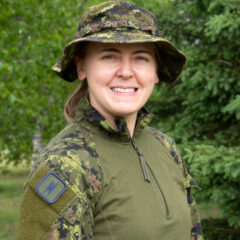 Marie-Claire Khadij
Chaplain
Canadian Armed Forces
View Profile
Marie-Claire Khadij (she/her/elle) is a proud Franco-Canadian who speaks French, English and Spanish. She has always been passionate about meeting people from various backgrounds and learning about their cultures and views on life. She is a Women's Rights advocate, and strives to be an ally to minorities, especially 2SLGBTQIA+ and POC communities.
She has been serving as a military chaplain since 2017 and became the first humanist chaplain in the Canadian Armed Forces (CAF) in May 2022. Her aim is to continue to grow the number of humanists chaplains in the CAF to ensure that all members (including humanists, agnostics, atheists and all with secular worldviews) are represented and can access services specific to their values.
As a military spouse since 2007 who then became a military member herself, Marie-Claire has had the privilege of working with CAF members and their families at home and abroad. She sees the role of a chaplain as being present with people through the joys and challenges of military life. She hopes to continue to offer a caring presence to the military community for years to come.
Website: https://www.canada.ca/en/department-national-defence/maple-leaf/defence/2022/06/caf-introduces-humanist-chaplain.html
Twitter: Meet Marie-Claire in 60 seconds