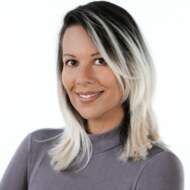 I became a wedding officiant from a personal experience: having embarked on the crazy journey of planning my own wedding, I found myself challenged in my search for an officiant. Regrettably, the services provided by the one we chose left a gap between my expectations and reality.

It was this gap that inspired me to give other couples what I didn't get. Fuelled by my own desire for a customized, personalized, and modern wedding ceremony, I spent two years in the licensing and training process with Humanist Canada, to be able to legally officiate weddings in Ontario. Throughout this process, I had been building a business with every detail in mind, from outfits that will align with couple's colours and themes, to carefully crafting questions that will guide them to reflect on their unique journey, and what type of ceremony they would like to have.

I combined my passion for people and storytelling, with my writing and communication skills, to tailor personalized ceremonies. With my commitment to responsive customer service and exceeding client expectations, I founded Vow Perfect.

My personal experience has allowed me to empathize with couples from all walks of life, who want their special day to be just as they envisioned. It is my honour to bring your wedding vision to life, ensuring that your journey down the aisle is marked by joy, authenticity, and beautiful memories.
This user account status is Approved
This user has not added any information to their profile yet.