Course: Critical Thinking I
Critical Thinking I
Instructor Dr. Christopher DiCarlo
04/07/2021 – 05/26/2021

Location
Virtual Course on Zoom, WEDNESDAYS 4.00 – 6.00 PM EST
Description
COURSE DESCRIPTION
The purpose of this course is to teach students how to analyse and critically reflect on beliefs and arguments held by others and themselves. We shall look at issues, topics, etc., which matter most to us e.g. health and nutrition, politics and law, science and technology, and various philosophical/religious beliefs concerning metaphysics, ethics, and knowledge. In learning to think critically, a student will be better able to organize personal thoughts about such topics by learning a series of tools that make up what we might call the critical thinking skillset. Critical thinking skills teach us that there really are better and worse ways to think about things. It really is possible to have intelligent discussions, disagree entirely, and still be able to get along. Your thinking will become better as well because what emerges from your ability to understand and use these skills is an element of diplomacy and fairness when having intelligent discussions and dialogue about important issues. And this will translate into more civil disagreement.
With advances in technology resulting in the increasingly rapid transfer of information throughout the world, it has become more difficult to determine what is legitimate news and to distinguish reliable information from fake news. To enable you to make such distinctions with confidence, this course will empower you with the skill set of Critical Thinking. These skills will provide you with the ability to analyze information, understand the importance of bias and context, consider what counts as evidence, and identify fallacies or errors in reasoning. Learning the critical-thinking skill set will empower anyone to become a more critical thinker in a post-truth world.
CERTIFICATION
A Certificate of Completion is issued upon successful completion of the course (a pass /fail multiple-choice test).
ABOUT THE INSTRUCTOR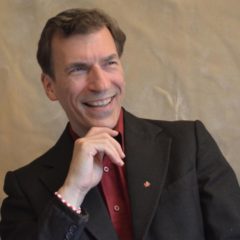 Dr. Christopher DiCarlo is a philosopher, educator, and author. He is the Principal and Founder of Critical Thinking Solutions, a consulting business for individuals, corporations, and not-for-profits in both the private and public sectors. He is also the Ethics Chair for the Canadian Mental Health Association. Dr. DiCarlo is also a lifetime member of Humanist Canada and an Expert Advisor for the Centre for Inquiry Canada. He currently teaches at Ryerson University and is a past Visiting Research Scholar at Harvard University. Dr. DiCarlo has won several awards including TV Ontario's Big Ideas Best Lecturer in Ontario Award and Canada's Humanist of the Year. He has authored several books, the latest of which is entitled: So You Think You Can Think: Tools for Having Intelligent Discussions and Getting Along which was released by Rowman and Littlefield in June of 2020.
SCHEDULE
Week 1: Introduction and A is for Argument
Week 2: B is for Bias
Week 3: C is for Context/D is for Diagram
Week 4: E is for Evidence
Week 5: F is for Fallacies
Weeks 6 – 8: Discussion of Topics e.g. Abortion, Euthanasia, Gun Control, Same-sex Marriage, God, Climate Change, etc.
FEES
$150.00 for Humanist Canada members; $250.00 for non-members. If you are an HC member, please log into your account to select the discounted fee.