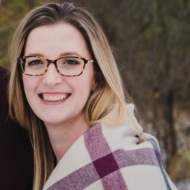 I started officiating in 2019, but my involvement in weddings started 20 years prior when I was an assistant to my mother, a wedding photographer. By the age of 16 I had been to more weddings than I ever imagined.

Through the years, my mum and step-father both became Humanist Officiants, which sparked my interest in the profession; I never considered the possibility of a non-denominational Officiant.

Fast-forward through college, university and the 9-5 grind, and my passion and desire to be involved in weddings was fired up, and I decide to continue in my families' footstep and become a Humanist Officiant.

Weddings are one of the happiest days that occur in someone's life. I love helping create those happy moments that make each person feel special on such an important day; ensuring the ceremony expresses the love for one another, who you are individually, spiritually, and culturally. Being a part of the day, and hearing couples expressing their feelings of love and vision with a community of family and friends is such an uplifting experience. I would be honoured to celebrate those moment with you on your special day.
This user account status is Approved
This user has not added any information to their profile yet.
Sudbury / Northern Ontario